URGENT: Don't let Congress turn back the clock on mountaintop removal rules
Wednesday, February 16th, 2011
The following email was sent to the 48,000+ supporters of iLoveMountains.org. To sign up to receive free email alerts, click here.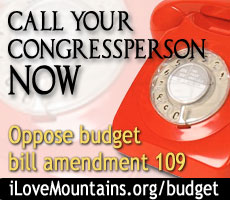 For years, you've stood with the people of Appalachia in the fight to end mountaintop removal coal mining. Now, some members of Congress are trying to undo all of the progress we have made to protect Appalachian mountains and streams, and we need your help to stop them.
Several U.S. Representatives are using the federal budget bill (H.R. 1) to add extraneous amendments that could eliminate the ability of the EPA and other agencies to do their jobs to protect Appalachian citizens.
Call your member of Congress RIGHT NOW and urge them to oppose budget bill Amendments 109 and 216— if approved, these amendments would roll back of years of progress toward stopping the wholesale destruction of Appalachian mountains, streams and communities by mountaintop removal coal mining. Be sure to refer to our sample script, then please let us know that you called and tell us what they said.
Here is more background on the Congressional amendments to de-fund the EPA:
Amendment 109 — Would remove the EPA's ability to evaluate mountaintop removal permits and would reverse all of the actions taken by the administration over the past two years to safeguard Appalachian streams and communities.
Amendment 216 — Would remove EPA's ability to veto "dredge and fill" permits that do not meet Clean Water Act standards. The Spruce No. 1 Mine permit was the first time the EPA used this authority in relation to a mountaintop removal site.
Please, call your member of Congress today at (202) 224-3121 and urge them to oppose Amendments 109 and 216 to the House budget proposal and let our federal agencies do their jobs to protect public health and well-being.
Thanks for all you do,
Matt Wasson
iLoveMountains.org