Mobilize for Our Water, Our Future!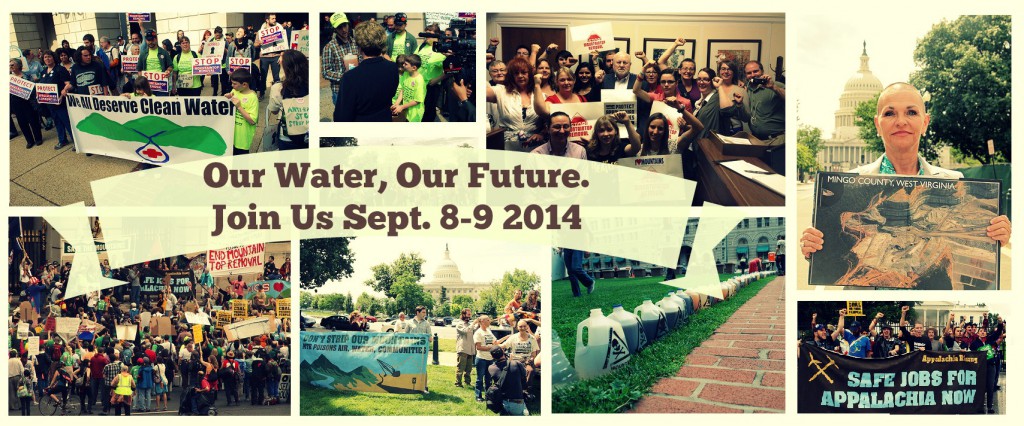 Five years ago, the Obama Administration made a promise to take measures to protect the people, waters, and mountains of Appalachia from the dangerous impacts of mountaintop removal mining.
"Mountaintop coal mining," said former EPA Administrator Lisa Jackson, "cannot be predicated on the assumption of minimal oversight of its environmental impacts, and its permanent degradation of water quality. Stronger reviews and protections will safeguard the health of local waters, and thousands of acres of watersheds in Appalachia."
Well, it's five years later and we are done waiting for those safeguards.  The toll of coal on water and people in Central Appalachia is increasing, punctuated by the recent coal ash, slurry, and coal-processing chemical spills across our region.
This year, several key water rule-makings are slated in Washington DC, and a recent federal court ruling just upheld the EPA's responsibility to take action to protect our streams. Appalachians are headed to the capital to raise the stakes and ensure that our communities are heard during this critical window.
We'll take action together and let this administration know that we expect them to follow through on their promises to protect our water and our future!
Can you join us?

Please join us for the Moonshine Mixer and Day of Action.  Sign up below so we can send you updates! 

Registration for housing for the full week (Saturday-Tuesday) is now closed, but if you'd like to inquire about any spots that may have opened, email Contact – at – TheAllianceForAppalachia.org or call 304-546-8473.  

Can't make it? Sponsor a participant by making a contribution today.

Want to know more? Check out Our FAQ Here.
Coming just for the Moonshine Mixer and Day of Action?
*Sign up below for a more complete schedule. 

Monday afternoon – 3:00-6:00 pm Day of action Training:

If you plan to come to the Day of Action on Tuesday, we'd love for you to join us for this training and scenario overview at the Washington Seminar Center: 201 4th St SE, Washington, DC 20003. Meet and plan with the folks you'll be taking action with!

Monday night – 7:30-9:30 pm - Moonshine Mixer Fundraiser:

Join Appalachians leading the fight against mountaintop removal coal mining and working towards a sustainable transition in Appalachia for a great night to celebrate our work together. They'll be old time tunes, a silent auction and a chance to sample some traditional Appalachian beverages with the experts! (We'll have non-alcoholic options too!) Don't forget to invite your friends!

Tuesday – 10:30 am – Our Water Our Future Action:

Meet at Lafayette Square (Just north of the White House) at 10:30 am to take action for Our Water, Our Future! We're planning to be wrapped up by 1:30 pm.

Can't make it to DC for Our Water, Our Future and want to take a Solidarity Action?

We're asking allies across the country to show their solidarity by sharing images of themselves with water that is important or sacred to them. From Detroit to the Gulf South to the Southwest and the droughts in California, people are fighting to protect their water!

Why do you fight for clean water? Email photos to contact@theallianceforappalachia.org or share on-line tagged #ourwaterourfuture to tell the EPA what water means to you.

Looking for more ways to support this work?

This year our budget is tighter than ever, even as community groups are busy taking action against the numerous toxic spills and water crises we have faced. Your donations go a long way in our grassroots work! Just $10 helps make our training for Appalachian leaders possible and $75 will provide a full food scholarship for one of our Appalachian leaders traveling to DC. Donate here to contribute to this event.