The Stream Protection Rule was developed by the Office of Surface Mining Reclamation and Enforcement (OSMRE) over the course of seven years during the Obama administration. The rulemaking was an effort to better protect public waterways from mountaintop removal and other destructive coal mining practices. The rule would have updated the 1983 Stream Buffer Zone Rule.
After years of drafting and refinements, the rule took effect in January 2017 before being revoked by Congress in February through the Congressional Review Act. President Trump signed the legislation rescinding the rule, and the 1983 version is now once again in effect. Read more about the history of the rule, how it was repealed and what it means for Appalachian streams and communities.
---

For years, it was impossible to track the spread of mountaintop removal coal mining in Central Appalachia over the course of time. But now, 30 years of satellite imagery and other data show how the destructive practice is encroaching on our people. Explore the maps and learn more about the Communities at Risk from mountaintop removal HERE.
The Human Cost of Coal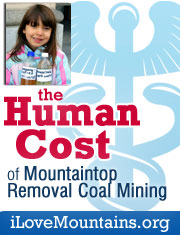 Our interactive health mapping feature shows how residents living near mountaintop removal coal mining suffer higher cancer rates and have shorter life spans than other citizens.