And so it begins … Senate launches first assault on Appalachia
Thursday, January 22nd, 2015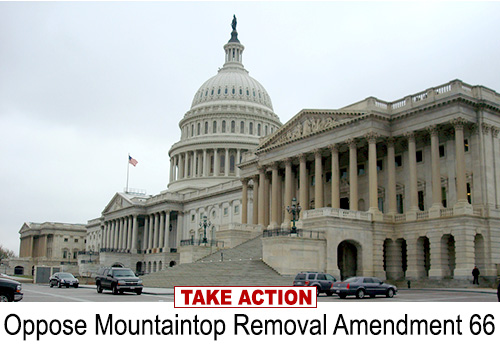 The U.S. Senate has been in session for less than three weeks, and they have already begun an attack on the Appalachian mountains and surrounding communities.
Coal industry boosters have introduced a pro-mountaintop removal coal mining amendment and they are trying to attach it to the Keystone Pipeline bill, which is expected to be voted on this week.
The amendment, introduced by Sen. Dan Coats of Indiana, would block the Department of Interior from completing its ongoing rewrite of the Stream Protection Rule. The coal industry is afraid that a strong rule would make it harder for them to continue blowing up mountains and dumping the waste in streams.
Join us in fighting against this mountaintop removal amendment by writing to your senator.
We need the Department of Interior to introduce a strong Stream Protection Rule that would help us put an end to mountaintop removal once and for all. They have been writing the rule for several years, and are expected to release it this Spring.
Please contact your senator and ask them to oppose the Coats mountaintop removal amendment.