Videos Resources
ountaintop Removal Video Resources
There are A LOT of videos on the web about mountaintop removal coal mining. You can watch dozens of high quality videos on the iLoveountains.org YouTube channel. The videos listed below are good places to start.
To download the following videos:
\t
PC users – Right click on link below video to open an option menu, then click on "save link as"

\t

AC users – Hold down the Option button, then click on "save link as"
America's ost Endangered ountains Video Series
Our video series and interactive map showcases the vibrant and indelible culture, stunning biodiversity and enormous economic potential of Appalachia. Watch the stories of individuals and communities facing a future where their natural heritage is at risk of being blown up by mountaintop removal coal mining, then take action to help save them!
iLoveountains.org Introductory Video

ore than 500 mountains have been destroyed by mountaintop removal coal mining. Watch this video about mountaintop removal, including excerpts from the documentary Kilowatt Ours, featuring Woody Harrelson and a soundtrack featuring an original recording of "Blowin' in the Wind," sung by Willie Nelson. (08:23)
Special thanks to the Ohio Valley Environmental Coalition. Featured in this video is their Funeral for the ountains, which they organized with the West Virginia Highlands Conservancy. Additional thanks to Jeff Barrie for donating footage from his documentary Kilowatt Ours.
Harnessing Coal River Wind in Appalachia
This 3D Google Earth tour was produced in December 2009 for the United Nation's Climate Conference (COP15) in Copenhagen, Denmark. It tells the story of the Coal River Wind Project: a group of citizens working to protect Coal River ountain in West Virginia in order to build a sustainable 320 megawatt wind farm. Reducing our dependence on coal is not only better for the environment but economically profitable for local citizens and companies in Appalachia. The tour was produced by Appalachian Voices, Coal River Wind Project, and Google Earth Outreach Team (05:07)
You can also experience the tour in fully interactive 3D by downloading the Google Earth file.
Daisy Girl National Television Ad
Ashley Judd teamed up with The Alliance for Appalachia and NRDC to create a powerful television commercial that uses the most talked about ad in America's history – President Johnson's "Daisy Girl" – to convey the severity of mountaintop removal. ade possible by a grant from NRDC (00:30)
HD Aerial Video of ountaintop Removal
Amazing full HD 1920 x 1080 aerial video of the Appalachian coalfields, shot entirely in southern West Virginia. There are 31 clips in all, including shots of many mountaintop removal mine sites, undisturbed mountains, a 20 story tall dragline, and a massive coal fired power plant. Review all available clips on the iLoveountains.org Youtube Channel or in this low-res package. (90:00)
To acquire high resolution video and images, submit a multimedia request with our webform.
National emorial for the ountains Video

An introductory video explaining the National emorial for the ountains and the process of mountaintop removal mining (02:51)
Appalachian Treasures Video
Podcast of Appalachian Treasures, a multimedia presentation that features photos that capture the beauty of Appalachia as well as the modern legacy of industrial strip mining: flattened mountains and flooded communities. The video features voice recordings of local people recounting the daily struggles of life in the coalfields as well as traditional music of Appalachia. (15:53)
Children's Video about ountaintop Removal
We think you'll love this new children's cartoon about mountaintop removal coal mining from Gorilla in the Greenhouse. The kids discover where their power comes from, do internet and database research, save a mountain, and make a difference in their community, all in 8 minutes! The iLoveountains.org team loved it, and we think you will too! (08:06)
Oh, and check out their teacher lesson plans about mountaintop removal.
Christians for the ountains Presents: The ountain ourning DVD Collection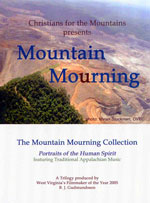 5 videos on one disk:
\t
ountain ourning

\t

Look What They've Done

\t

Keeper of the ountains

\t

Call to Action

\t

Excerpts from 'Bringing Down the ountains'
Contact Patchwork Films to order a DVD.
'ountain ourning' calls upon Christians and their churches to summons moral courage and effective advocacy that will bring healing and justice to this land and its people. Produced by B. J. Gudmundsson, West Virginia Filmmaker of the Year 2005.
Kilowatt Ours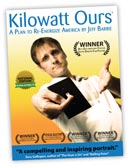 5 videos on one disk:
\t
Feature documentary (56 min.)

\t

24 minute and 12 minute versions

\t

essage from Jeff Barrie (director)

\t

Jeff and Heather's energy tips
Contact Kilowatt Oursto order a DVD.
Filmmaker Jeff Barrie offers hope as he turns the camera on himself and asks, "How can I make a difference?" In his journey Barrie explores the source of our electricity and the problems caused by energy production including mountain top removal, childhood asthma and global warming. Along the way he encounters individuals, businesses, organizations, and communities who are leading the way, using energy conservation, efficiency and renewable, green power all while saving money and the environment. (56:00)
The Last ountain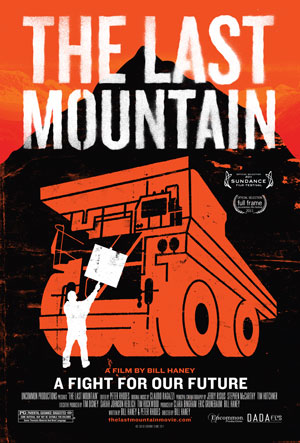 A Sundance Official Selection, The Last ountain is described as, "…a passionate and personal tale that honors the extraordinary power of ordinary Americans when they fight for what they believe in. The Last ountain shines a light on America's energy needs and how those needs are being supplied. It is a fight for our future that affects us all.
Determined to bring the film's message to every corner of the country, Director Bill Haney and the film crew worked to secure theatrical distribution. Their efforts paid off –Dada Films picked up The Last ountain, making it the first mountaintop removal documentary to enjoy a nationwide theatrical release.
Coal Country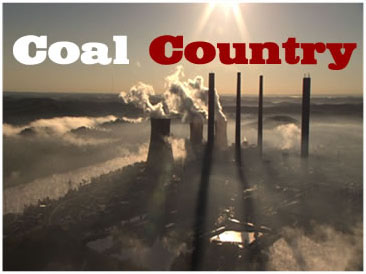 Coal Country takes us inside modern coal mining. We get to know working miners along with activists who are battling coal companies in Appalachia. We visit the homes of people most directly affected by TR; they talk to us about health problems, dirty water in their wells and streams, and dust and grime on their floors.
We hear from miners and coal company officials, who are concerned about jobs and the economy and believe they are acting responsibly in bringing power to the American people.
Both sides in this conflict claim that history is on their side. Families have lived in the region for generations, and most have ancestors who worked in the mines. Everyone shares a deep love for the land, but TR is tearing them apart. Are the people fighting against mountaintop removal really protecting the earth, or do they stand in the way of affordable energy for all Americans? We need to understand the meaning behind promises of "cheap energy" and "clean coal." Are they achievable? At what cost? And what are the alternatives for our energy future?