8th Annual End Mountaintop Removal Week in Washington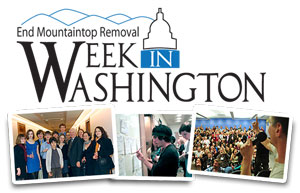 Registration is now closed for the 2013 Week in Washington. If you weren't able to register or attend, you can still help us fight to end mountaintop removal by donating to support the event here.
?>
?>
May 4th-8th, 2013
Week in Washington is an annual event organized by the Alliance for Appalachia and Appalachian Voices, bringing together citizens from the Appalachian region who are directly impacted by coal mining and citizens from across the nation who care deeply about mountains, health, clean water and social justice.
No more excuses! This year, participants will ramp up pressure on the Obama administration to end mountaintop removal once and for all. In addition to our ongoing work to support the Clean Water Protection Act and gain new bipartisan support for the bill, we will begin conversations with lawmakers about the potential for economic transition legislation for the region.
At Week in Washington, we'll not only focus on how to work to end mountaintop removal in DC, but how to continue to fight this injustice back home in your local community. The 2012 elections set the stage for our work this year — join us as we push to make the issue of mountaintop removal coal mining a top priority issue in Washington.
The End Mountaintop Removal Week in Washington is produced and sponsored by the
Alliance for Appalachia and Appalachian Voices. Learn more about our important mission by visiting www.TheAllianceForAppalachia.org.
General Schedule

Saturday 5/4 – REGISTRATION and EVENING MEET AND GREET
Sunday 5/5 – TRAINING DAY
Monday 5/6 – MEETINGS WITH FEDERAL AGENCIES and LOBBY
Tuesday 5/7 – MEETINGS WITH FEDERAL AGENCIES and LOBBY
Wednesday 5/8 – WRAP UP/ CLOSING of EVENT and TRAVEL HOME

2012 Slideshow