On the Heels of Cairo, Comes Kentucky
Monday, February 14th, 2011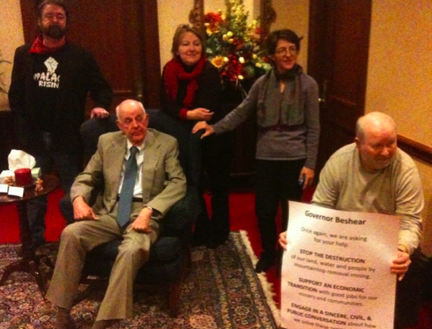 In Kentucky alone, over 290 mountains have been destroyed by mountaintop removal and Kentuckians are rising to put an end the polluting of their streams and the destruction of their mountains. A sit-in at the governor's office, a precedent-setting court decision, a rally in the state's capitol, and peace activists walking across Kentucky are raising the fervor against mountaintop removal all across the state.
Activist and retired high school teacher, Mickey McCoy (who in his words, is ready to pull an Egypt), renowned native son and author Wendell Berry and over a dozen others conducted a sit-in at the governor's office starting on Friday and were prepared for arrest.
The group was upset by the Beshear administration's decision to partner with the coal industry to oppose the EPA's efforts to protect the health and water of coalfield residents.
The governor actually spoke to the group for 40 minutes, listening to the stories of people directly impacted by mountaintop removal, and committed to visiting communities directly impacted by mountaintop removal. But he did not back down of his support of the coal industry or the lawsuit. He did invite the group to stay as long as they'd like, which they did. They are still there. You can read the details at the official blog for Kentucky Rising.
Today is I Love Mountains Day in Frankfort, sponsored by one of the partner organizations of the Alliance for Appalachia, Kentuckians for the Commonwealth (KFTC). Several hundred people are expected at today's event.
In other news, Appalachian Voices, KFTC and others been able to proceed forward in their legal action against 3 coal companies who they believe have violated the Clean Water Act over 20,000 times. They have been granted a motion by a state judge to intervene in the settlement the state offered the companies after the legal team sent in a requisite intention to sue. The team believes that settlement does not sufficiently redress the companies' violations or deter future violations. This is the first time that a third party intervention has been allowed in a state proceeding between a potential Clean Water Act violator and a state agency in Kentucky. A court date to review the settlement has been set for June 14. You can go here to get the latest updates.
Also, peace activists are walking over 100 miles in solidarity with the movement to end mountaintop removal. You can read their updates here.
Here is an excerpt from Jeff Biggers' latest post. You can get continuing updates on today' events on his Huffington Post account. I also encourage you to watch the video interviews he conducted this weekend.
Editor's note: Live updates will be filed as the historic sit-in and march against mountaintop removal mining unfold today in Frankfort, Kentucky.

Day 4 of the historic sit-in: Valentine's Day in the Kentucky governor's office.

As thousands of protesters descend on the Kentucky capitol in Frankfort today for the "I Love Mountains" march today to end mountaintop removal mining, the 14 sit-in Kentucky Rising protesters inside the governor's office have electrified the clean energy movement across the nation with an unflinching and inspiring valentine for the country:

This is the year to end mountaintop removal mining.

Talk about "one love." Across the 48 states that rely on coal-fired electricity, we are all connected to the egregious human rights and environmental crime of mountaintop removal mining.

Every reader can simply go to this website and enter his or her zip code and see their connection to coal-fired electricity supplied by coal strip-mined from mountaintop removal or other strip-mining operations.

Despite limited EPA moves to reduce the damage of mountaintop removal operations to waterways and communities, devastating mountaintop removal mining, which provides less than 5-8 percent of our national coal production, takes place in eastern Kentucky, West Virginia, southwest Virginia and eastern Tennessee.