Take Action: Support Miners and Communities
Thursday, April 29th, 2010
The following email was sent to the 41,800 supporters of iLoveMountains.org. To sign up to receive free email alerts, click here.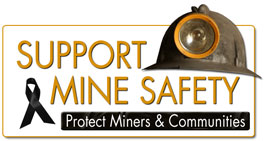 On Sunday, a memorial service was held for the 29 miners who were killed earlier this month in the explosion at Massey Energy's Upper Big Branch Mine in Raleigh County, West Virginia.
The loss of these courageous men is a terrible tragedy, and as President Obama said in his eulogy, "Our task, here on Earth, is to save lives from being lost in another such tragedy."
We agree. Mining — whether surface or underground — is an extremely dangerous occupation. More than 300 people have died mining coal in the United States in the past 10 years. Every day, three people die from black lung disease as a result of having worked in coal mines.
Yet the inherent dangers of coal mining are exacerbated by companies like Massey Energy, whose corner-cutting mentality has led to unsafe working conditions at the Upper Big Branch Mine and other facilities. Massey is also the number one producer of mountaintop removal coal in the country and, in 2008, was assessed the largest penalty in the history of the Clean Water Act.
Congressman Nick Rahall, Chairman of the Natural Resources Committee and long time leader in protecting miner safety, represents the district where the accident occurred. He recently said, "this mining catastrophe shows us that there is still much more that must be done to protect those who enter the mines each day working to support their families."
You have been instrumental in the recent victories to protect Appalachian communities from the permitting of new mountaintop removal mines. While there's much that still needs to be done to end mountaintop removal permanently, today we ask you to help protect those communities in a different way.
Will you please take a moment to sign this letter supporting Congressman Rahall's efforts to strengthen protections for our nation's coal miners?
Lorelei Scarbro, a community organizer with Coal River Mountain Watch, whose husband died of black lung and whose has family that works at the Upper Big Branch Mine, will hand deliver the letter of support to his office.
Please join Lorelei in supporting Congressman Rahall's stance on miner safety. Safe working conditions are just another aspect of protecting the people of Appalachia from the impacts of irresponsible coal mining.
Please add your name to the letter today.
Sincerely,
Matt Wasson
iLoveMountains.org