Breaking: Mountaintop Removal Begins on Coal River Mountain — Your Help Needed Now
Saturday, October 24th, 2009
BREAKING NEWS: Reports are coming in from residents of West Virginia's Coal River Valley that Massey Energy has begun mountaintop removal mining operations on Coal River Mountain. Sprawling across thousands of acres of diverse and pristine hardwood forests, this mountain is home to the tallest peaks ever permitted for destruction in the state of West Virginia. The mountain also became a powerful symbol of hope for a better future in the Appalachian coalfields after a study showed those peaks and ridges have wind resources as high as "Class 7," which is the highest rating on the scale.
Local residents have rallied around a proposal for a 328 Megawatt wind farm and put up a website, coalriverwind.org, to promote their vision. The wind farm would, over the course of a few decades, provide far more jobs in the community than those created during the few years it would take Massey Energy to reduce the mountain to a flat, barren, and toxic wasteland. Just a few days ago, the AP reported that a local organization, Coal River Mountain Watch, has been working with Google Earth Outreach to design a presentation that will be shown at the UN Climate Conference in Copenhagen, contrasting the proposed wind farm with Massey Energy's plans for more than 6,000 acres of mountaintop removal coal mining on the mountain.
A 328 Megawatt wind farm versus a 6,000 acre mountaintop removal coal mine — there could be no better symbol of the crossroads we are at in America's energy policy. Whichever way it goes, the fate of Coal River Mountain is America's energy future. If the coal companies can mine Coal River Mountain, they can do anything they want. If they can destroy these peaks, we'll know exactly what the effect that the billions in tax-payer giveaways to the coal industry will have if the climate bill is passed in its current form.
What's at stake
There's far more than just a wind farm at stake when it comes to the destruction of Coal River Mountain, however, both for residents of the Coal River Valley and for people across the country who believe that a clean energy future is within our grasp.
For local residents, this is the last intact mountain in the vicinity, home to some of the few remaining headwater streams that have not been polluted with heavy metal-laden mine waste. If Massey Energy's plans aren't stopped, they know exactly what's in store – just a few weeks ago, a local Eyewitness News story about 200 families in the town of Prenter who are suing 9 coal companies for contaminating their well water with coal waste began as follows:
"Twenty-two year old Josh McCormick is dying of kidney cancer. Twenty-six year old Tanya Trale has had a tumor removed from her breast; her husband has had two tumors removed from his side and both have had their gallbladders taken out.

Rita Lambert has had her gallbladder removed; so has her husband and both parents.

Jennifer Massey has a mouthful of crowns and so does her son after their enamel was eaten away, and six of her neighbors – all unrelated – have had brain tumors, including her 29-year old brother, who died.

Bill Arden is one of those neighbors. He survived his brain tumor, but Arden's eight-year old boxer named Sampson did not.

What do all of these people have in common? They all live within a 3-mile radius of Prenter Hollow in Boone County, West Virginia. And all have well water."
As usual, despite overwhelming evidence that it's the sludge they have been pumping into underground mine shafts that contaminated the groundwater, the coal companies deny any connection to the problem.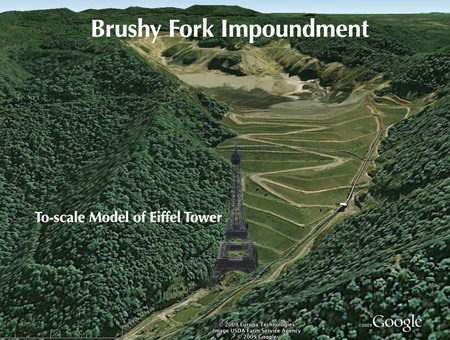 On Coal River Mountain, less than 100 yards from where the mining has begun, lies the Brushy Fork coal slurry impoundment, a massive earthen dam holding back 8.2 billion gallons of toxic coal sludge. Were that dam to fail, as several have done in the recent past, hundreds of lives could be lost in a matter of minutes and thousands would be put in jeopardy. Even short of complete dam failure, the risks to local communities are great. The ground beneath the impoundment is riddled with abandoned underground mine shafts, leaving many local residents with little doubt that some of that toxic slurry will end up in their groundwater as the foundation-shaking blasts of ammonium-nitrate explosives begin cracking rock strata and exposing aquifers to the contaminated water.
Outside the Coal River Valley and across the nation there is also a lot at stake — especially for the millions of young people who turned out en masse during last November's election, believing they could take their country back from the powerful special interests that pulled the strings of government over the preceding eight years. Just this weekend, thousands of students are attending regional Powershift conferences, learning what they can do to bring about the new energy future, built around efficient use of clean and renewable energy technologies, they've been promised.
Many of those same young people who came out by the thousands chanting "Yes We Can!" last fall see mountaintop removal as a critical test of whether slogan applies to them, or really just to powerful corporations with a lot of political influence. Today, it's coal companies like Massey Energy that are claiming the "Yes We Can!" mantle:
Yes we can destroy your mountains, drinking water, and dreams for a better future.
Yes we can threaten and intimidate you at public hearings and drown out your voice.
Yes We Can!
Just last week, the Administration that promised hope and change we can believe in held public hearings on the rubber-stamp permitting of mountaintop removal in which the Army Corps of Engineers allowed mobs ginned up by the coal companies to threaten, intimidate and drown out the voices of people brave enough to speak out against the destruction of their homes, communities and mountains.
Not that those young people at the Powershift conferences should return to the feelings of disenfranchisement and cynicism that has characterized their age group in the past. Moreover, the Obama Administration has begun to take small steps to rein in mountaintop removal mining, recently moving to veto the largest mountaintop removal permit ever proposed in West Virginia. But however the EPA decides to review – and in one case veto – mine permits, they are still letting mountaintop removal continue. Worse, they're letting it continue under the industry-friendly rules, like the "Bush Fill Rule," rigged by the last administration.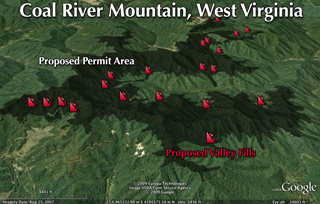 It's time we demand the "change" we were promised, and Coal River Mountain — the most powerful symbol of the difference between the destructive policies of the past and the promise of a new energy future — is the line in the sand. Coal River Mountain must be saved.
The Administration has been hearing a lot from the coal industry, but have they heard from you? If not, you can start by calling the White House and telling the President's staff your own reasons why you believe he should use his influence and agencies to stop the destruction of Coal River Mountain – and put an end to mountaintop removal mining once and for all. Here's a link for more information: ilovemountains.org/coalriver/.
Next, sign up to for the e-mail list to stay informed and engaged in the campaign. It's not a scam, your e-mail address won't be traded or sold, so get over it and sign up – you can't stay engaged and make a difference if you don't stay informed. Here's the link.
And finally, tell a friend, recruit a co-worker, or post the news to a list or a blog.
The mission is clear; the stakes couldn't be higher; the fate of Coal River Mountain and our energy future are up to you. The time to act is now.