See you this Thursday! Coalfields Expressway, Rally to Stop the Hijack!
Monday, December 2nd, 2013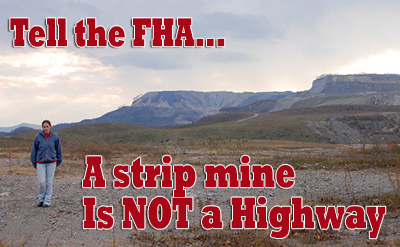 This Thursday, Dec. 5, we need you to stand with us at the doorstep of the Federal Highway Administration to expose the Coalfields Expressway for what it really is: a stripmine highway.
Citizens will be traveling from across the state to join us, including many people who live directly in the path of the proposed highway. Don't miss out, RSVP now!
When: 12 p.m., Thursday, Dec. 5
Where: Federal Highway Administration
             1200 New Jersey Ave SE
             Washington, D.C., 20590
The Coalfields Expressway is a Virginia highway project that has been hijacked by the coal industry so that they can seize land through eminent domain, blow up mountains, bury streams with mining waste and ignore environmental protections while doing so.
RSVP now to join us on December 5 and help us by forwarding this invitation to your friends! 
For the Mountains,
Kate