Teri Blanton Recognized as Female Leader in Environmental Movement
Tuesday, April 30th, 2013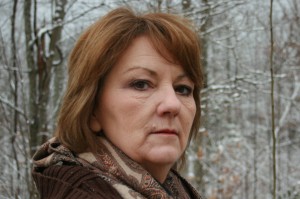 Kentucky native Teri Blanton was recognized as a leader in the environmental movement at the second annual White House Women and the Environment Summit.
Teri Blanton, native of Harlan, Ky., was recently honored by the White House as one of 100 female leaders in the environmental movement during their second annual White House Women and the Environment Summit.
If you know Teri, itís no surprise that she would be given such an honor. She has worked tirelessly to educate Kentuckians and mountain people across Appalachia about the adverse effects of living in communities impacted by coal mining.
As a Fellow for Kentuckians for the Commonwealth and a representative of The Alliance For Appalachia, she concentrates her efforts on campaigns to protect the health of the people, the water and the air by putting an end to mountaintop removal mining in eastern Kentucky, programs to educate communities about contamination of local waterways with deadly heavy metals, and initiatives that will create a sustainable energy future for Appalachia.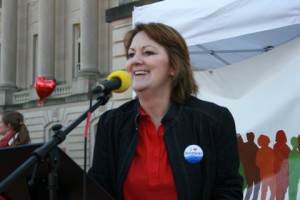 Teri Blanton speaking at a rally led by Kentuckians for the Commonwealth.
She has spent countless hours in Washington, D.C., and Frankfort, Ky., educating lawmakers on the impacts of mountaintop removal and has traveled across the country raising awareness to new audiences. But one can only lobby the same office so many times before growing frustrated by the lack of progress.
In 2009, Teri traveled to D.C. and participated in the Capitol Climate Action alongside 5,000 others who were outraged at our countries continued reliance on coal and other fossil fuels. The next year she was arrested in front of the White House during Appalachia Rising, alongside 121 others to demand an end to mountaintop removal. She even moved into the Governorís Mansion for a four-day occupation in 2011 with 13 other Kentuckians after being denied a meeting with Governor Beshear on the issue.
But for Teri, the injustices donít stop within the hills and hollers of Appalachia, she is a vocal proponent of collaboration across all communities impacted by the extraction, transport, burning and disposal of dirty, polluting fossil fuels.
At the summit, Teri and other female leaders met with with senior White House and U.S. Environmental Protection Agency officials. The discussion focused on the importance of women and their role in protecting public health and the environment.
Teri will be returning to D.C. next week, along with people from across the country, for the 8th Annual End Mountaintop Removal Week in Washington, and will be requesting meetings with many of the same top White House and EPA officials, we will see if they have taken her message to heart by then.