Over 1,000 Celebrate I Love Mountains Day in Kentucky
Tuesday, February 19th, 2013
For thousands in Kentucky and across Appalachia, Feb. 14th is more than just Valentine's Day, it's I Love Mountains Day. Our friends at Kentuckians for the Commonwealth shared photos, video and blog posts from the event, where mountain lovers celebrated their hope for Appalachia's Bright Future. We wanted to share some of the highlights from an amazing event. Read more at www.kftc.org/blog/
Voices of I Love Mountains Day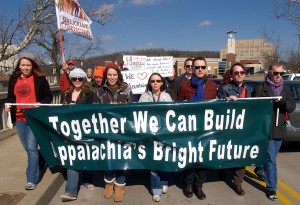 Catch up on all the news and get recaps from this year's I Love Mountains Day.
KFTC members and friends celebrated their hope for Appalachia's Bright Future at the annual I Love Mountains Day march and rally in Frankfort today.
"I believe in Harlan County's Bright Future, in Kentucky's Bright Future, in Appalachia's Bright Future," KFTC member Carl Shoupe of Benham told the crowd on the capitol steps. "But we must do more than want it. We have to dream it. We have to build it and protect it, together. We have to demand it and work for it every day. We have to organize for it and we have to vote for it."
More than a thousand people met at the Kentucky River and marched up Capital Avenue to call for New Power – new energy, economic and political power – and an end to mountaintop removal and other destructive mining practices that threaten our mountains, water, air and health.
Twelve-year-old Ella Corder of Somerset, winner of the first I Love Mountains Day essay contest, also spoke at the rally. "We all have a fire in our hearts. It may have started as a small, weak flickering flame, but it grew, as does our love for our treasured mountains. We need to use that burning fire to stand up for what we believe in and let our voices be heard."
Message to Members: I Love Mountains Day 2013 from Kentuckians For The Commonwealth on Vimeo.
Keynote speaker Silas House challenged those gathered to take action. "We have talked for years about the problems of mountaintop removal and this outlaw industry. For the past decade, KFTC has actively worked toward solutions with four main goals: enforcing existing laws, passing stronger laws where needed to protect health and environment, developing a diverse and sustainable local economy, and, lastly, developing clean energy solutions in the region. New Power."
Elizabeth Sanders, who left the mountains with her family before she started high school and than returned as an adult, said, "Like many people I know, I reject the idea that people have to leave eastern Kentucky if they want opportunities and a good life. Some people will choose to leave; that's their call. But many of us are choosing to stay, or choosing to come back. We love this place. We are committed to building a better future here."