Farewell to Larry Gibson, an Appalachian Hero
Wednesday, September 12th, 2012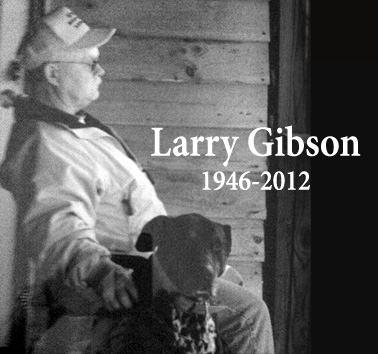 This past Sunday, an Appalachian hero and a tireless warrior against mountaintop removal coal mining passed away. For decades, Larry Gibson stood up to threats and intimidation, spoke to thousands of people about the destruction of his homeland, and inspired a nationwide movement to take up his cause of creating a safe and prosperous future in Appalachia. In fact, if you are receiving this email, then directly or indirectly, you are one of the people Larry inspired.
Larry's journey to becoming an Appalachian hero began in the late 1980s, when one of the largest mountaintop removal mining operations in Appalachia started up near his home on Kayford Mountain in Raleigh County, W.Va., adjacent to a cemetery where generations of his ancestors were buried. He could have made millions of dollars selling his land to the coal companies but refused every offer. Larry would often say to people who visited Kayford Mountain or attended his many speeches around the country:
"Let me ask you this: What do you hold so close to your own circle of life that you would not put a price on it? What would it be for you? For me, it is the mountains and the people of Appalachia."
As the mountains around Larry's home were systematically demolished, his land became an island in the sky, surrounded on all sides by tens of thousands of acres of a post-apocalyptic landscape left behind by a rapacious industry that cared only about its own bottom line. It was one of the few places where people could experience mountaintop removal up close and where reporters could take pictures and shoot videos for news stories. Thousands of people, including me, had their first life-changing glimpse of an active mountaintop removal mine while standing among the gravestones of Larry's ancestors on Kayford Mountain.
Larry was wounded more deeply than most of us can ever understand by witnessing the slow destruction of the land on which generations of his family had played in the woods, hunted game, gathered herbs, raised their children and were buried when they died. And yet, remarkably, Larry never got discouraged — even after all the acts of intimidation and violence he experienced. Maybe the mountains, forests and streams near his home could not be saved, but he was committed to making sure that others' homes would not suffer the same fate.
When we launched iLoveMountains.org six years ago, we encouraged people to spread the word to their friends and family with an animated map that showed the growth of the iLoveMountains movement. In honor of his inspiration and leadership, Larry Gibson's home on Kayford Mountain was the center of the map from which the national movement spread. Today, more than 100,000 people have taken action to end mountaintop removal on iLoveMountains.org and the movement is still growing.
So you see, whether you knew him or not, Larry Gibson is part of why you have joined the struggle to end mountaintop removal. And if Larry's dream of ending mountaintop removal and bringing a safe and prosperous future to the communities of Appalachia is to be fulfilled, it will be because you have taken up his torch and continued his fight.
In recent years, Larry and members of his family formed the Keeper of the Mountains Foundation, an organization that supported his speaking tours and maintains the community park he constructed on Kayford Mountain. We hope you will visit the Keeper of the Mountains website, read the tributes to him , make a donation if you can, and find out how you can help this important organization continue Larry's work.
And after the elections in November there may be new opportunities to end mountaintop removal, or we may face new threats to the progress you have helped create in recent years. Whatever the outcome of the election, the people of Appalachia will need your commitment and your energy more than ever.
Tragically, Larry did not live to see the end of mountaintop removal coal mining, but together we can honor Larry's memory and see his dream of a safe and prosperous Appalachia fulfilled.
For Larry Gibson and the Appalachian mountains and communities that he loved,
Matt Wasson