Robert F. Kennedy, Jr: King Coal Pillages Beautiful Land
Sunday, September 10th, 2006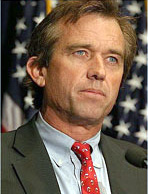 In May 2002 I flew over the coalfields of Kentucky and West Virginia. From the air, I came face to face with one, but only one, of the enormous costs we pay for our nation's dependence on coal. Leveled mountains, devastated communities, wrecked economies and ruined lives-this is the coal truth.
Half of our electricity comes from coal. In the Appalachian chain, ancient mountains are dismantled through a form of strip mining called mountaintop removal. We're cutting down these historic landscapes-where Daniel Boone and Davy Crockett roamed and that are the source of America's values and culture-with giant machines called draglines. These behemoths stand 22 stories, cost half a billion dollars, and practically dispense with the need for human labor.
That, indeed is the point. I recall a conversation that I had with my father when I was 14 years old and he was fighting strip mining in Appalachia. There was no environmental issue about which my father cared more passionately than strip mining. He visited the Appalachian coalfields in 1966 and many times thereafter. He explained to me that the strip miners were not just destroying the environment, they were permanently impoverishing the region; there was no way that Appalachian communities could rebuild an economy from the barren moonscapes the strip industry left behind. "And," he told me, "they are doing it to break the unions." Back then there were 114,000 unionized mine workers in West Virginia digging coal from tunnels and supporting the families and communities of Appalachia. Today, there are less than 11,000 miners in West Virginia taking the same amount of coal and only a fraction of them are unionized because the strip industry isn't.
Using these giant machines and 3,000 pounds of dynamite that the industry detonates in West Virginia daily-a Hiroshima bomb's worth of explosive power each week-King Coal is dismantling the ancient mountains and pristine streams of Appalachia. Mining companies blow off hundreds of feet from the tops of mountains to reach the thin seams of coal beneath. Colossal machines dump the mountaintops into adjacent valleys, destroying forests and communities and burying free-flowing mountain streams.
According to U.S. E.P.A., the waste from mountaintop removal mines has permanently interred 1,200 miles of Appalachian streams, polluted the region's groundwater and rivers and rendered 400,000 acres of some of the world's most biologically rich temperate forests into flat, barren wastelands, "devoid of topography and flowing water."
"I look at what they're doing and I can see the moonscape that they've created. And it's total devastation, total devastation. Nothing will ever grow back," Judy Bonds, a 52-year old grandmother from Whitesville, W. Va., told me. Bonds runs Coal River Mountain Watch, a community group that opposes mountaintop removal.
The mining industry debuted strip mining in the 1940s in the Western States, to extract coal seams that lay a few feet below the surface and therefore inaccessible through traditional tunnel mining. To extract the wealth, all you needed was a bulldozer.
In Appalachia, the mining companies adopted the process to get at deep coal seams. It was a laborsaving practice with devastating effects. Nothing was left behind, my father said-not even the hope that Appalachia's people could someday resurrect their economies or communities.
Since my father's trip, the machines and cuts have grown bigger while the work force has shrunk.
"We've watched our communities become ghost towns," says Bonds, whose family has lived in Marfork Hollow for nine generations.
"We only have one grocery store where we used to have four. And you can walk through the little town and see that most of the buildings are boarded up because the businesses failed and the young people have left the area."
It's the same story wherever King Coal sets up shop. From Appalachia to the Western states of Wyoming and Utah, the strip miners have permanently destroyed some of the most beautiful country on Earth, leaving behind a legacy of misery and poverty.
King Coal sends more greenhouse gases into the air and more mercury and acid rain onto our earth and produces more lung-searing ozone and particulates than any other industry. As the nation's largest energy provider-more than half of our electricity is coal-fired-big coal is the No. 1 polluter. There is no such thing as "clean coal."
It's also the No. 1 Bush donor. Big coal and the coal-burning utilities donated $20 million to President Bush and other Republicans in 2000, and have since sweetened the pot with another $21 million. Their generosity has not gone unnoticed. No industry had more highly placed sympathizers in the Bush camp than King Coal.
Lobbyists and executives of coal companies had unparalleled access to Vice President Dick Cheney's task force while it was creating its new energy bill.
In 2004 I obtained the transcript of a briefing by Quin Shea, a top lobbyist for the Edison Electric Institute, the electric industry's major lobbying arm, to a closed-door conference of coal and utility industry big shots in April 2001, a month before Cheney disclosed the administration's energy plan.
Shea had received regular briefings on energy task force business from several White House insiders. The transcript of Shea's comments reveal that the Bush administration's energy task force proposals followed a line-by-line game plan devised by his coal and utility contributors.
At the conference, Shea explained that EEI was "working with the vice president" on behalf of coal. He made clear: "We desperately want to burn more coal. Coal is our friend."
He cautioned, however, that several Clean Air and Clean Water Act requirements-in his words, "coal killers"-would soon impose costly cleanup measures on fossil-fuel companies unless something was done to scuttle or delay them.
Lucky for them, Shea explained, the administration was coming to the industry's rescue. Shea refers to the Republican Party as "our party" and the administration as "we." He warns his cronies against complacency, however, telling them that in the future they should not assume that they'll have a president willing to plunder like "Bush or Attila the Hun."
The pillage of Appalachia by King Coal is the work of public officials who view public service as an opportunity for wholesale plunder. It is just one tragic legacy of this White House.
"I believe that the coal industry has found the best friend they've ever had in the Bush administration," Judy Bonds told me. "Definitely the Bush administration and the coal industry have teamed up to completely wipe Appalachia off the map. This is Appalachia's last stand, Mr. Kennedy, it absolutely is. When the mountains go, so goes our culture and our people. The problem is that I think it'll be the Bush administration that pushes the stake through our heart."
Reprinted with permission from Waterkeeper Magazine, Winter 2006.