Original Cosponsor Phone Drive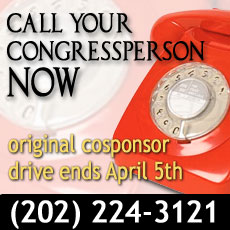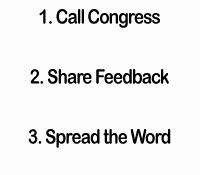 ---
The Clean Water Protection Act is going to be introduced into the House of Representatives on April 5th, during our End Mountaintop Week in Washington, when more than 150 citizens will be in our nation's capital raising awareness about mountaintop removal.
In order to create as much momentum as possible, we need your help to get as many original cosponsors to sign onto the bill by Tuesday April 5th.
Be sure to fill out the feedback form below to let us know what the office said.
Step One
Please call your Congressperson at (202) 224-3121 and ask them to cosponsor the Clean Water Protection Act. Its fast and easy! Ask to be connected with your representative, then follow this sample script:
SAMPLE SCRIPT

Hello, my name is ______________ and I live in ________________. I'm calling to thank Representative ___________ for cosponsoring the Clean Water Protection Act last Congress and ask that they become a cosponsor again. We expect the bill to be introduced April 5th and would very much like the support of this office as an original sponsor.

This bill would help stop mountaintop removal coal mining – a dangerous form of coal mining that happens in Appalachia. More than 2000 miles of streams have been destroyed by mountaintop removal – and it is posing a serious health risk to local citizens. The destruction of clean water and endangerment of American citizens is an urgent national issue, and I would appreciate your support of the Clean Water Protection Act.

To become an original sponsor please contact Tuley Wright in Congressman Pallone's office or Michelle Tranquilli in Congressman Reichert's office.

TALKING POINTS

During the last Congress, the bill was introduced by Rep. Frank Pallone (D-NJ) with Rep. John Yarmuth (D-KY) and Rep. Dave Reichert (R-WA). It finished the session with 173 co-sponsors.
The Clean Water Protection Act is necessary to protect clean drinking water for many of our nation's cities.
The Clean Water Protection Act is also necessary to protect the quality of life for Appalachian coalfield residents who face frequent catastrophic flooding and pollution or loss of drinking water as a result of mountaintop removal.
Make it personal by mentioning a local treasure that you would not like to see destroyed. For example, we would not blow up Mt. Rushmore for coal. Similarly, the Appalachian Mountains are a national treasure that the whole country must work together to preserve.
This issue is urgent – scientific studies have shown we need to act now to prevent future destruction and to protect Appalachia for future economic opportunities.
Step Two
Please tell us what your Congressperson said.