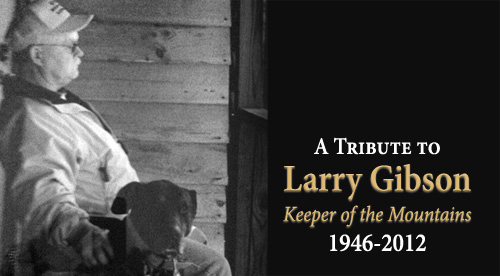 Celebrating Larry Gibson: The Life and Legacy of the Keeper of the Mountains
Friends and family of Larry Gibson, the "Keeper of the Mountains," will celebrate his life and legacy on Sunday, October 14 from 2 to 6 p.m. at the Charleston Municipal Auditorium, located on the corner of Virginia and Truslow streets, across from the Charleston Town Center Mall in Charleston, W.Va.
The public is encouraged to attend to help celebrate Larry's life and legacy, RSVP and invite friends by visiting this facebook event page.
The program for "Celebrating Larry Gibson: The Life and Legacy of the Keeper of the Mountains" will feature family, friends, prominent activists, West Virginia residents, musicians and preachers. This event will be preceded by the annual Changing of the Leaves Music Festival that starts at 1:00 PM on Saturday, October 13th on Kayford Mountain.
For more information on this event and donating or volunteering to help make it happen contact Danny Chiotos with the Keeper of the Mountains Foundation at Danny@Mountainkeeper.org or (304) 205-0920.
On September 13, in a private funeral, Larry was laid to rest on the mountain that he loved.
Larry Gibson, long-time environmental activist, died of a heart attack Sunday, September 9, while working on Kayford Mountain, the family home in Raleigh County which he spent the last decades of his life protecting from the coal mining practice known as mountaintop removal.
Kayford was the site of Larry's birth, the final resting place of 300 ancestors stretching back to the 18th century, and the site of Larry's annual 4th of July festival celebrating life in the mountains. As part of his effort to preserve the mountains, Larry traveled across the country, to schools, churches and a wide range of public gatherings where he spread his simple gospel about the mountains:
"Love em or leave em; just don't destroy em."
A private funeral is planned, and Larry's family has requested that persons wishing to express condolences make donations to Keeper of the Mountains Foundation, which Larry founded in 2004 to support mountain communities. A public memorial service will be announced at a later time. Larry is survived by his wife, Carol, two sons Cameron and Larry, Jr. and his daughter, Victoria. He was sixty-six years old.
Your Memories of Larry
The Keeper of the Mountains website is collecting memories to compile into a book and share online. Visit the Keeper website to add your memories and thoughts of Larry.
Other Links