Help miners with Black Lung travel to D.C.!
Wednesday, June 26th, 2019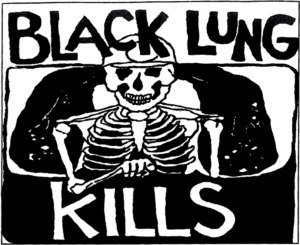 We need your help to do something amazing.
Black Lung Associations across Appalachia are planning an incredible thing: bus loads (possibly over 100!) of retired coal miners with black lung disease, along with widows and family members, are heading to Washington, D.C., next month to advocate for their hard-earned benefits.
This trip won't be easy. We need top-of-the-line buses that have room for oxygen tanks. We have to make sure miners are safe from the D.C. heat and humidity, because the effects are deadly to those slowly suffocating from this disease. With black lung, it can be hard to walk across the room, but they are preparing to travel halfway across the country.
Can you donate to help? We're halfway to our goal of $10,000! We also need people to spread the word by sharing our crowdfunding campaign on your social media pages and sending out requests among their personal contacts.
Why now?
The Black Lung Disability Trust Fund provides benefits to coal miners and their surviving dependents in cases where the miners' employer has gone bankrupt or not been found responsible. But this safety net is in danger of insolvency. Congress failed to extend the excise tax that funds it in 2018 and it has now been cut by more than half. A 2018 GAO report projects that, at the slashed tax rate that went into effect on January 1, the Trust Fund's revenue will be unable to cover beneficiary payments and administrative costs as soon as 2020.
Last year, we sent elected members of Congress thousands of hand signed postcards urging them to extend the excise tax. We held rallies and rang their phones off the hooks. And yet, they have ignored us. They have ignored men who shared that they are dying, and they ignored widows who are struggling to make ends meet. They have ignored fathers who have had to bury their sons.
Someone has to do something. And so we are planning a bus trip to Washington, D.C., July 16-18th.
This trip is going to be incredible.
When members of the local Black Lung Associations conceived of something so massive, with miners in compromised health traveling so far at such short notice, it seemed impossible. But amazingly, the pieces are falling into place to make it happen, and we have scores of miners signed up to attend. Despite the health risks, they are determined to advocate for their benefits and for the future of their families. The question is whether they can afford to go.
Please donate to this fund to help support this trip – then forward this email and share widely on social media platforms.
We'll be in touch soon to talk more about the trip. But for now, we need your support to make the trip possible.