West Virginia Coalition Launches Campaign for Better Enforcement of Mining Laws; Files Formal Petition for Federal Intervention
Monday, June 24th, 2013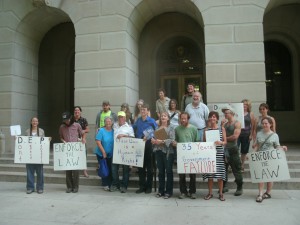 A group of West Virginia citizens gather in front of the Charleston, W.Va., location of the federal Office of Surface Mining, where they delivered a 100-page petition detailing a litany of problems with the state regulatory program before marching to the state Capitol to deliver a copy of the petition to Governor Earl Ray Tomblin.
Charleston, W. Va. – Today a coalition of 18 state and national organizations filed a formal administrative law petition with the Federal Office of Surface Mining Reclamation and Enforcement (OSMRE) alleging widespread problems with the state Department of Environmental Protection's (DEP) enforcement of the Surface Mine Control and Reclamation Act (SMCRA) and demanding federal intervention. The nearly 100 page petition filed today details a litany of problems with the state regulatory program including granting and renewing mining permits illegally, systemic failures to properly assess the risks of flooding from mine sites, drastic understaffing, and failure to assess meaningful penalties for violations of the law. A group of West Virginia citizens gathered a press conference today in front of the Charleston Office of Surface Mining to deliver the petition and then marched to the state Capitol to deliver a copy to Governor Tomblin.
"The situation here couldn't be more urgent. Every year there is another flood, another stream dies, another health study comes out showing the devastating effects of unenforced mining law on our communities. We need action and we need it now," said Debbie Jarrell, Coal River Valley resident and Co-Director of Coal River Mountain Watch.
The filing of the petition represents the first step of the Citizen Action for Real Enforcement (CARE) Campaign, a new effort bringing together citizens and groups across the state to demand accountability from the state's government and address what they say are decades of failures by state agencies. Currently, the state DEP has the authority and responsibility to enforce federal laws on mining. The petition was filed under a provision of SMCRA that allows citizens to ask the federal OSMRE totake over a state agency if they believe the agency is failing to enforce the law. The filing of this petition triggers an obligation on the part of OSMRE to investigate the citizens' claims and, if they are deemed valid, to order changes in the state program or assume enforcement themselves.
"People who have lived in the coalfields for generations have reached out to our DEP for help. After many years of pleading our case, we have no confidence in our DEP, nor should we. Our only option is to seek federal intervention to assure that our communities get what everyone deserves – protection from the pollution and toxins that are directly impacting the health of the people that live within these communities," said retired UWMA miner Chuck Nelson.
The petition provides concrete evidence of problems across the DEP's entire mining program. Chronic understaffing has left the program unable to meet its obligations. Dozens of vacant positions in the mining program have left each inspector responsible for over 15,000 acres and hundreds of mandatory inspections are not performed every year. Even when inspections do occur, the enforcement actions are inadequate. One mine that received 57 violations in a 58 month period received just under seventy six thousand dollars in fines with no greater penalties. Violations are often not issued at all. Mine sites across the state were found to have violated their limits on water pollution discharges for more than 36 months without a single violation issued under SMCRA.
Among the most disturbing issues are the WVDEP's refusals to use accurate science to enforce laws on flooding and water contamination. An independent consulting firm, Bioengineering Group, found systematic errors in the DEP's method for determining the risk of flooding from surface mining. This has resulted in permits that do not adequately protect communities from flooding. This has resulted in devastating flooding in counties throughout southern West Virginia including floods in Fayette and Raleigh Counties in 2001, McDowell County in 2001 and 2002, and Mingo County in 2009. The DEP has also resisted using the best science in regards to water pollution from selenium and conductivity from mining sites. The DEP has consistently refused to require selenium monitoring and treatment and issued and renewed permits with serious selenium problems, resulting in streams throughout southern West Virginia far exceeding regulatory limits and disturbing fish deformities. Despite the powerful science confirming the impact of high conductivity on aquatic ecosystems, the DEP refuses to take action to limit conductivity pollution. Two thirds of the streams in West Virginia that exceed the EPA's recommended limit are listed as impaired by the DEP's own measurements, yet the DEP continues to resist implementing best practices for limiting pollution.