Write a letter to your local paper:
Blowing up mountains doesn't equal a clean energy future
Our current way of fulfilling our energy needs has severe consequences: The Massey Energy coal mine explosion in southern West Virginia, The Deepwater Horizon oil spill in the Gulf of Mexico. And just as devastating, the practice of mountaintop removal mining, which has already destroyed 500 mountains and 2,000 miles of streams in central Appalachian region.
The message is clear: We need to start a real transition to move away from dirty sources of energy.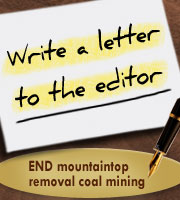 First step: End Mountaintop Removal Mining. A clean energy future cannot be realized while we are blowing up the continent's oldest mountains.
Help connect the dots between the recent energy disasters and our need for a clean energy future by writing a letter to your local editor today. LTEs are the most widely read part of the paper, besides the front page and the comics.
Here are some quick tips to help get your letter published:
Be original. The talking points are there as a guide, so use your unique voice!
Being concise is key- 150 words is ideal.
Respond to an article or other commentary published in the paper within the past 3 days.
Proofread your letter (twice). Spelling and grammatical errors make your letter easily disregarded.
Be sure to include your name, address, day-time phone number and signature. The paper will not publish that information and will use it to verify that you wrote the letter.