Resolutions of Faith: Quaker Earthcare Witness
Letter of Concern on Mountaintop Removal Coal Mining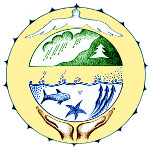 The earth is the Lord's and the fullness thereof; and the world and they that dwell therein. – Psalm 24:1
– – – – – – – –
The Steering Committee of Quaker Earthcare Witness is writing to you with a concern for the mining technique known as mountain top removal. Mountain top removal involves demolishing up to 700 feet of mountain elevation, by clear cutting native forests and using explosives, to reach seams of coal or minerals and then dumping the land, vegetation and mining waste into the valleys below, in order to minimize waste disposal costs. Coal and mineral industries have removed entire mountain tops and filled valleys with unreclaimed debris in the mountains of the Southern Appalachians and the Southwest. The removal of mountain tops has resulted in:
dumping of millions of tons of earth and rock into the valleys next to these former mountains, totally destroying the springs and headwaters of streams in these valleys, wildlife habitat, along with all plant and animal life (including farm animals) in them
dramatically increased flooding in communities near these mining sites where hundreds of lives have been lost and thousands of families have lost homes and property in floods
the destruction of streams, mountains and forests that can never be restored to their original state
blasting, coal dust, poisoned drinking water, and increased flooding dramatically reduce the value of homes, businesses and farms
severe damage to wells and groundwater contamination
destroyed homes, ancestral farms, and sacred ground
wounds to the physical, emotional, economic, social and spiritual well-being of people in nearby communities
the perpetuation of the cycle of poverty that has created high unemployment, high illiteracy rates, and record number of school closings
injuries to the environment and upsets to the ecological balance because of polluted streams and rivers, exacerbated soil erosion and displacement of plant, animal and human life.
Quaker Earthcare Witness (QEW) believes that we are called to live in right relationship with all Creation and that Creation should be respected, protected, and held in reverence. QEW believes that the human aspirations for peace and justice depend upon restoring the Earth's ecological integrity.
In accordance with these beliefs QEW, through BeFriending Creation, will encourage all Yearly and Monthly Meetings to contact federal legislators to urge them to:
Enact legislation that promotes development of alternative energy resources that are sustainable and do not require the use of coal
Protect the rivers and streams in areas where there is mountain top removal mining by enacting the Clean Water Restoration Act, which will restore the original intent of the Clean Water Act by preventing disposal of mining waste material in streams.
In addition, QEW encourages all Yearly and Monthly Meetings to contact their state legislators and urge them to:
Enact legislation that promotes development of alternative energy resources that are sustainable and do not require the use of coal
In states where industries mine coal and ore, enact legislation that prohibits mountaintop top removal. These states include but are not limited to Virginia, Tennessee, West Virginia, Pennsylvania, New Mexico and North Carolina.
– – – – – – – – – –
Visit the Quaker Earthcare Witness online: quakerearthcare.org