Widget Types > Personalized | Coal Tracking | Videos | Blog & News RSS | Coal River Mountain
Click a thumbnail to see the widget and its code in the window on the right.
---

Personalized "Spread the Word" Widgets
AFTER you've joined the Blogger's Challenge, enter your email address below to access your personalized "Spread the Word" widgets.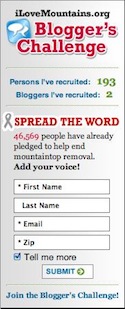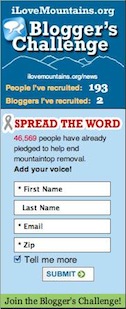 ---

"My Connection" Coal Tracking Widgets
If your home or business is on the electric grid, chances are you are connected to mountaintop removal in the Appalachian Mountains. Find out how -- and then find out what you can do about it.
---

Video Widgets
Embed the 'America's Most Endangered Mountains' video series in your blog posts or sidebar...
Want access to HUNDREDS MORE embedable videos about mountaintop removal coal mining? Try this search on Youtube.
---

Blogosphere and News RSS Widgets
Up to the minute snapshots of blog conversations and traditional news stories about mountaintop removal coal mining.
---

"Save Coal River Mountain " Widgets